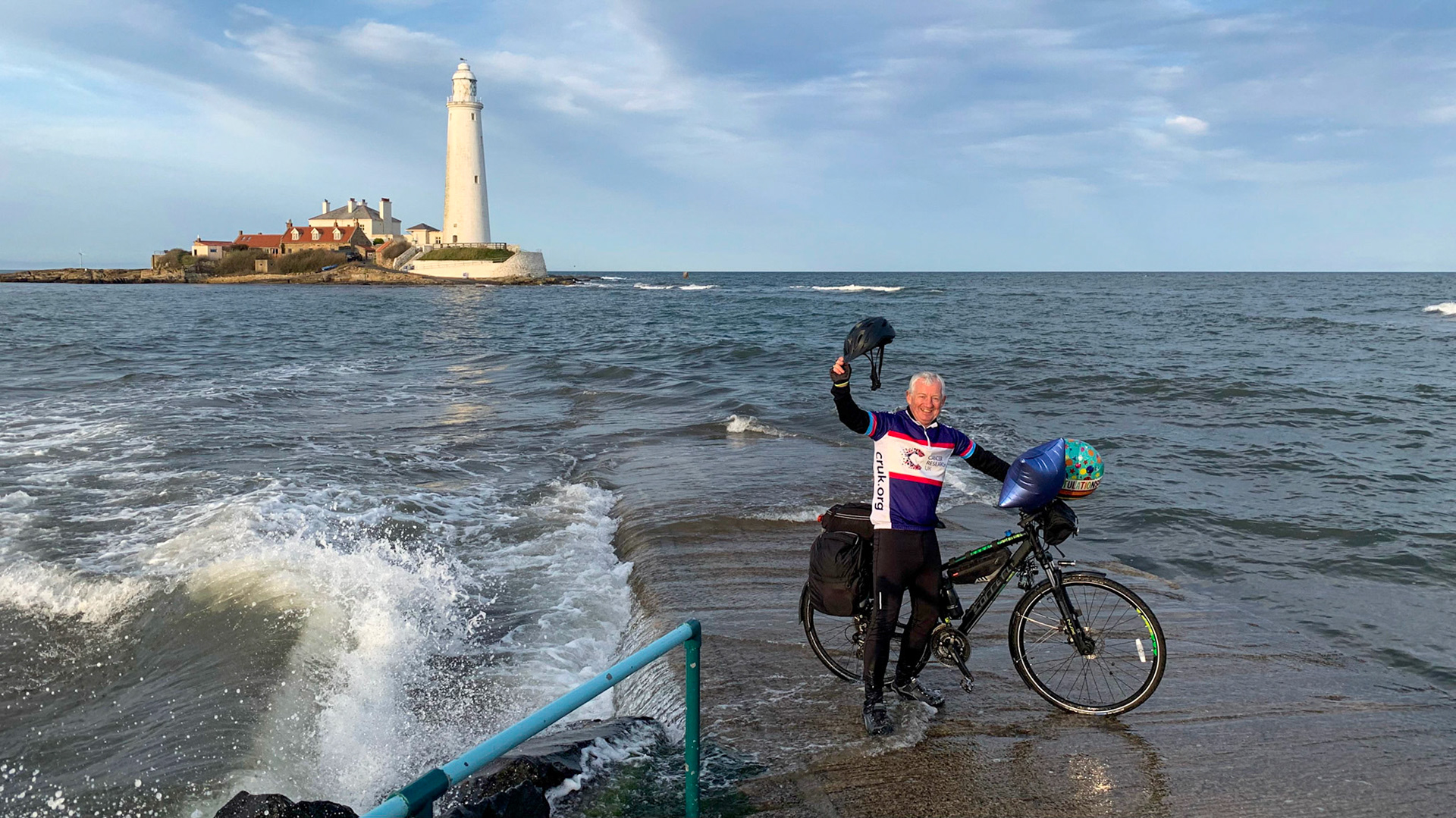 It has been an awful time during 2020 with this COVID lockdown situation, however one positive for me is that back in March I bought a bicycle and started to cycle. The cycling got me out of the house and allowed me to do some much-needed exercise which I thoroughly enjoyed doing. This exercise has improved my health and well-being by helping me lose 2.5 stone of unnecessary weight. I now feel so much better for losing this weight.
At the age of nearly 62, I decided to take part in a Charity Cycle Challenge on behalf of Cancer Research UK to help raise funds for this worthy charity and in honour of the many family and friends who have suffered cancer. Sadly, some lost their lives through cancer whilst some have won their battle thanks to Cancer Research UK.
The Charity Cycle Challenge was to cycle 300 miles during September 2020. So during week 11th-18th September, I made my goal to pedal a 300+ miles round trip, Sea to Sea (C2C) from Whitley Bay on the East coast of the UK to Workington on the West Coast of the UK, including a detour into Dumfries, Scotland then returning to Whitley Bay via the Lake District & North Pennines. With a fantastic response from friends and family and in some cases people I didn't even know donations amounted to over £2770 with the additional Government Gift Aid. 
Funds that will go towards supporting the fight against this awful disease.
Having now completed the challenge although hard going at times due to strong headwinds, it was a brilliant seven days which I thoroughly enjoyed doing. The self-satisfaction and euphoria I felt were worth every mile I pedalled to complete the challenge.
My sincere thanks to friends Dougie & Laura Currie, John Allan and Steve Trotter for their help and support during this challenge.
Thank you to Dougie and Laura for providing accommodation during my night in Scotland. To John for his help, mentoring and getting my bike into top condition for tackling the ride and to Steve for being my virtual rider, support and safety back up should things have gone pear-shaped.
Finally a very special thank you to all those who donated and sent me messages of support during my week's ride. It was very much appreciated and helped me on the way to complete this memorable week for me.
I hope you enjoy viewing some of the photos I took along the way.
Donations can be placed on my official Cancer  Research UK Giving Page via this link:-
Information about my rides can be found on the following links:-
With thanks to Steve for the additional photos and videos.