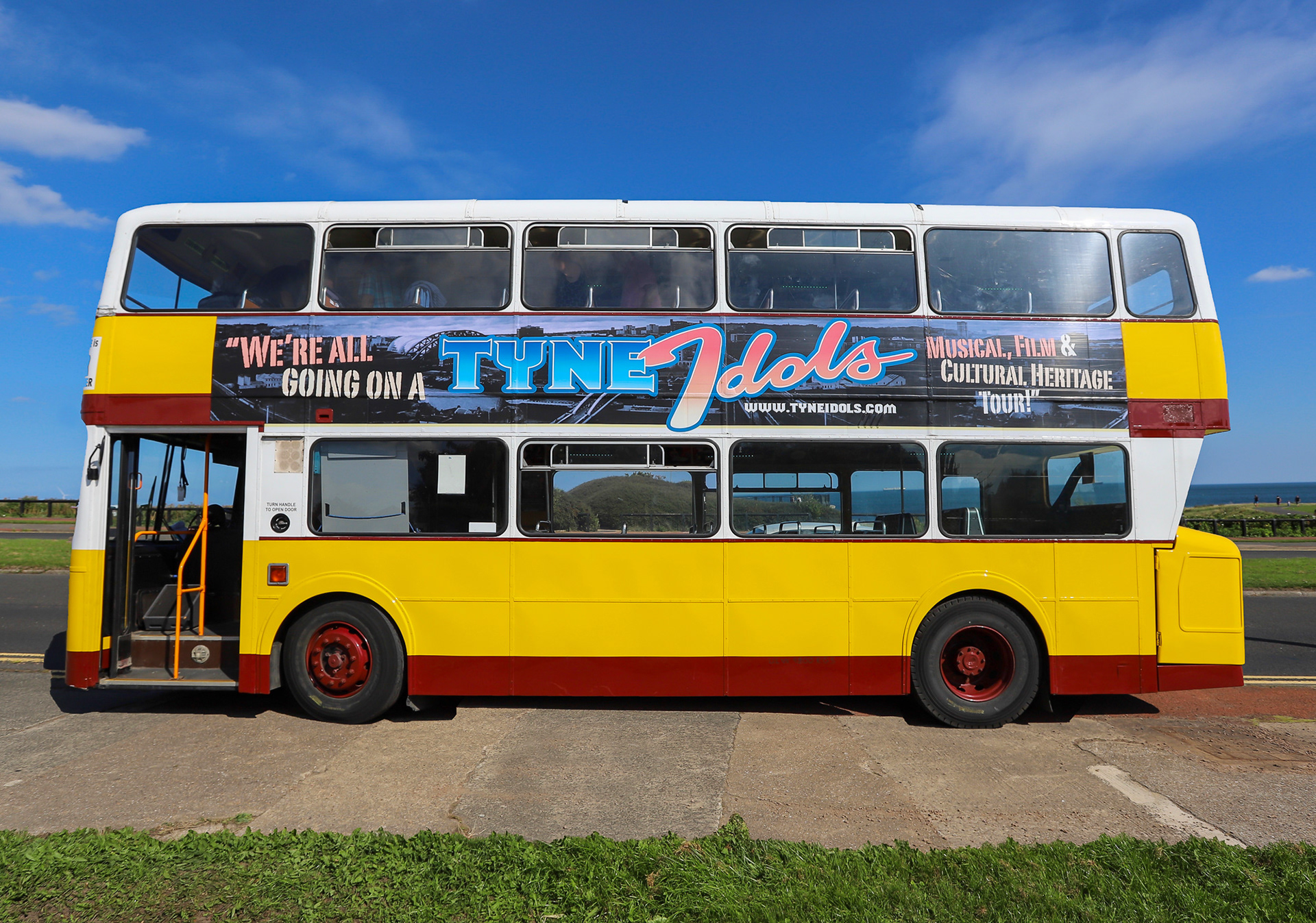 In September 2018 I was invited by 'Tyne Idols' to capture a few souvenir photos from one of their very popular  
'Get on Board North East Tours 'on their famous 'Big Yellow Bus'.
This particular tour was dedicated to a very popular BBC TV comedy series called 'The Likely Lads '(1964-66) and 'Whatever Happened to the Likely Lads' (1973-74)  filmed on location in the North East of England.
From a personal point of view this was one of my all time favourite TV comedy series so I was very much interested in attending and I wasn't disappointed!.
The TV series were created and written by the world famous script writing partnership of Dick Clement and Ian La Frenais, famous for also writing the much loved, Porridge, The Two Ronnies, Lovejoy, Auf Wiedersehen Pet and many other films and TV series.
This was a one off very special tour as on this occasion tour organisers Ray Laidlaw (Ex Lindisfarne) and  Paul Irwin had arranged for Dick Clement and Ian La Frenais  to attend and partake in the tour.
The tour travelled around Tynemouth, North Shields, Newcastle Upon Tyne, Whitley Bay, and many other places where 'The Likely Lads' TV series was filmed, with Ian and Dick regaling many happy memories and stories from their time on set.
One of the many  highlights of the tour was being welcomed to a house in Whitley Bay by the owner John Nixon. The house being famous for being featured as the  'Ivanhoe Guest House' as seen in the classic film version of 'The Likely Lads' filmed in 1976.
Click the link below to see a montage of photos from a fantastic, entertaining, well organised tour shared by a bus load of
 'Likely Lads' fans. A very special one off tour that could have been sold many times over.
A special thanks to my nephew Andrew Patrick for the Artwork Slides.